Command and Control with Smart Solution
Integrated Command Control Center (ICCC) is a next generation solution, which will establish an intensive framework where input from different functional departments such as transport, water, fire, police, meteorology, e-governance, etc., can be integrated and investigated on a single platform, resulting in aggregated city-level information. This aggregated city-level information can be converted into actionable intelligence, which can be propagated to relevant stakeholders and citizens.
Following are the intangibles that should be addressed by this intervention:
The 24×7 Control Center will act as the centralized hub of integration for various components envisaged under the Smart City.
Businesses and public authorities offer parking facilities around the world, and are constantly looking to improve the quality and convenience of parking. Optimize your parking system with C-Tel's customized parking management system.
Governments / Establishments
How SauveGarde can help with the Parking Management System?
2. Intelligent Traffic Management System

Intelligent Traffic Management System (ITMS) is intended to achieve traffic efficiency by minimizing traffic problems and seeks to help enforce traffic rules for the safety of citizens by using adaptive traffic control systems. It acts as an accurate decision support system for traffic planners and traffic law enforcement agencies.
The system is integrated with Command Control Center and Video Analytics solution in an integrated, uniform system architecture, so that the video surveillance and traffic monitoring services complement each other, thus addressing field issues with a holistic approach.
The ITMS Platform is integrated with following modules:
3. IITS-Fleet Management System
Building intelligence into the transport system brings about the convergence of technologies, providing a synergetic transformation in the commuter experience. SauveGarde Integrated Intelligent Transport System (IITS) provides benefits in terms of reduced waiting time and uncertainty, increased accessibility of the system, increased safety of users, reduced fuel consumption and emissions, reduced operational costs, improved traffic efficiency, reduced traffic congestion, improved environmental quality and energy efficiency, and improved economic productivity.
The IITS Platform is integrated with the following core modules:
4. Solid waste Management System
Your guide to intelligent and smart disposal!
Waste management is the collection, transportation, processing, recycling and disposal of waste. SauveGarde's approach is to decentralize waste management by managing waste at source making it a resource.
5. ANPR - Automatic Number Plate Recognition
Automatic Number Plate Recognition (ANPR) system has become the need of the hour keeping in view the increasing cases of traffic rules violation and crime. An ANPR camera keeps an eye on the vehicles plying around a region. ANPR system, an ideal solution of mass surveillance, capture the image of vehicle registration plates which can be stored in the inventory list of commuters.

Our solutions stores vehicle information along with approved access dates and times and in doing so removes the need to constantly monitor the entrance gates and site for unwanted guests or visitors.

The system is used extensively on industrial sites where access needs to be restricted for security reasons, and has proved extremely popular with holiday parks where it can be used to control guests access to and from the site and prevent unauthorized visitors gaining access.
Design
Using products from the world's leading manufacturers, we design a solution to meet your exact requirements.
Install
Our professional team make sure that we provide high quality installation services.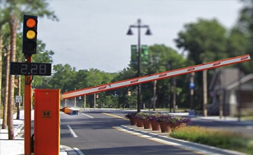 Configure
Our high qualified and experienced engineers configure the system, making it easy to use and work exactly how you expect.
SauveGarde also offers solutions in following areas: