Gate Automation was popular in developed countries since 3~4 decades, it is fast cathing up in developed and under developed countries also. Expensive manpower, security & control, easy of operation, low power consumptions are the resons of its popularity.
Door Automation, Gate Automation, Window Automation, Home Automation, Roof Automation are used in homes, industry, offices, hospitals & schools every where.
Automatic boom barrier offers security at the exit and the entry points of industrial unit, offices, corporate houses, residential areas, parking lots, toll tax plazas etc. Automatic barrier can be used to successfully control pedestrian and vehicle traffic. It can be used achieve better security. High performance Boom Barriers offered by Gandhi Automations are suitable for any type of installation atmosphere. The wide range of lengths and accessories available ensures that all installation requirements are met. All models are equipped with a facility of manual operation in the event of power failure and battery back-up capability in selected models.
The company deals in different types of tyre killers such as flat type tyre killer, hum type spike barrier, and Stemin tyre killer. One way road spike barrier is the most common type of tyre killer, which is used in different places. It is beneficial to stop the traffic coming from the wrong side. These spike barriers can be used by various personnel to stop vehicles instantly.
The company provides high-quality barriers and tyre-killers that can be easily deployed in seconds for a roadblock to protect an important building. Not only this, but the barrier we provide can also be used in no parking space.
HOW DO TYRE KILLERS WORK?
When a vehicle passes over the spike, it punctures the tyres, which will disable the vehicle to move further. The spikes are made from a very hard steel with steel fittings. The use of these spike barriers is very simple. You don't need to worry about carrying this tool as the barrier can easily fold this into a case or box.
If you are looking to buy road spike barriers in budget, you are at the right place. Just contact us or leave us an email regarding your requirements, and we will get back to you soon with a quotation.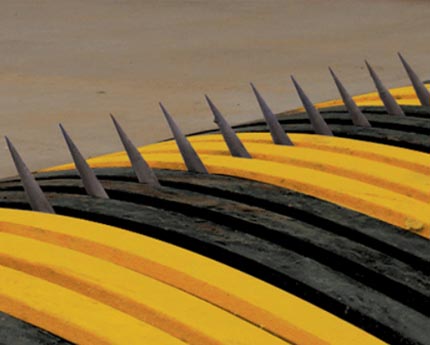 Portable automatic Spike Barrier
3. UVSS - Under Vehicle Scanning System
If your premises are worth securing according to the highest standards, it's worth looking into our Auto Scan – Under Vehicle Inspection/Scan System (UVIS). Our Auto Scan system will provide you with the perfect solution to scan, inspect, and digitally record the underside of vehicles. With SauveGarde you will enable your security staff to perform high quality and highly efficient inspection against explosives, weapons, narcotics, and other contraband hidden under vehicles
Key Features Of UVIS System:
The ever evolving world of technology demands a lot when it comes out security of your premises, possessions and more. The only way to ensure the optimum level of security is to use the latest, safest and reliant surveillance systems – one of the most important of them being the X-ray Baggage Inspection Systems (XBIS Machine) . X-ray Baggage Inspection Systems (XBIS Machine) are imaging systems for detection of dangerous/ banned objects or substances within baggage/cases/packets etc. Baggage scanning machines are installed across premises which get high number of footfalls in a day, residential complexes, hospitals, airports, railway station and so on to ensure safety and security.
X-ray Baggage Inspection Systems (XBIS Machine) is an integral part of the effective surveillance system. When surveillance is at times considered as a violation of privacy, Baggage Inspection System proves to be the most sophisticated security system which ensures thorough check without infringing the privacy. There are various models available for X-Ray Baggage scanners depending upon the purpose and location of installation. We at SauveGarde provide completely tailored X-ray Baggage Inspection Systems (XBIS Machine) based on your requirements.
Why Baggage Inspection System
5. Visitor Management System
Visitors are important for every organization, either it's an office space or a school/college. And if there are visitors, there is always a need for a visitor management system. Visitors are not just limited to office spaces. Every organization looks forward to a perfect and secured Visitor Management system/software whether it is Corporate, Industries, Modern Organization, and Research Centers or multiple tenants like Tech part, Business Centers, Commercial complex, Hospital campus, Schools, residential complexes, salons, etc. You name a place where businesses have visitors, SauveGarde is there for streamlining your visitor management process.